Interview with Nazgul, former CM of Rappelz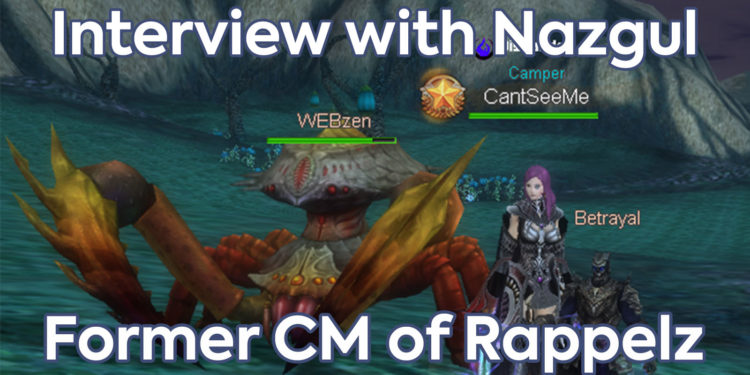 This post is also available in Français
Nazgul is one of the most popular CMs in the Rappelz community and Webzen in general. Following his retirement as Rappelz's CM, he agreed to take one of our traditional interviews!
Can you introduce yourself?
I'm Nazgul, born in England and now former community manager at Webzen for Rappelz US. I first started playing Rappelz in 2007, that's nearly half my life!
When did you start working at Webzen?
I started 4th July, 2016. However, I was a volunteer moderator for about 18 months prior to this.
What is your professional background (In the field of video games, how did you become CM etc…)?
Professional background in video games? I didn't have one. I had a background in customer service and a deep knowledge of how Rappelz worked. Matching these together, I fit the profile Webzen was after and through some miracle I managed to get through the interview stage.
What was your typical day as a CM?
My core responsibilities were:
Managing the community, obviously…
Write news and have it translated when needed.
Help CS answer tickets when time permitted – When I first started, there was a huge backlog of tickets. It took around 1-2 months of hard work to get this down to how it is today. (Majority of the time no more than 3 days for a response).
Complete QA on patches.
Create/gather feedback and submit to the rest of the team for forwarding onto Gala.
Sometime in the first 3-6 months I started to, unofficially, dabble with the game files. From then until I left the team, that began to consume my day. Tweaking or creating features/events. Each day I would work closer and closer with Gala and be discussing the next thing which we had to do.
How did you work with the other CMs, did you have shared tasks?
All core tasks are shared between the team. We're restricted by managing each other's communities, but we helped each other as much as possible. It's quite rare that any one person is solely responsible for a core task.
What is your best memory in your career at Webzen?
Moving over to Korea and meeting the team at Gala face to face.
Do you have a moment that marked you?
Isn't that for the community to decide?
Were you involved in other games in parallel with Rappelz?
Yes. The Rappelz team is also the Flyff team.
What will you miss about Rappelz as a CM?
Everything. Simply put, Rappelz is the game I love.
What will you miss least as a CM?
I monitored the game all day, every day. When I left the office, I would still be checking the forums and Discord. At weekend? I'd still be checking in. When I went back to England… I'd still be checking. I guess I can finally get some rest.
What is your current job at Webzen?
I'm now working on MU Origin 2, which has just been released.
Do you still have internal links with the Rappelz team?
Of course. I left the team, I'm not dead! If they need me for anything, my door will always be open.
For now, I'm still trying to finish up a few tasks for them.
A message for the community and our readers?
Webzen is not the only publisher. There are 4 others. Just because we/you want something, doesn't necessarily mean it will happen. A middle ground always must be found between all publishers. The team at Webzen always tries to meet your expectations but sometimes it's not possible.
Bonus: If you could be a pet in Rappelz, which one would you choose?
I like to think I already am.
The Death Gladiator is the last thing I made before leaving and I know what it's capable of and I'd like to think it's part of me!
Revelation !
While reading this article, it may have seemed strange to you to see a screenshot of CantSeeMe, who is a well-known player in the US. He is notably the first US player to have reached level 180, he is also the developer of one of the first statbuilders (released before ours). He also owns a famous Youtube channel in the world of Rappelz.
Well, CantSeeMe and Nazgul are one and the same person!
Indeed, when Nazgul sent us an illustration image for this article, he sent us the image visible above with the text "The secret revealed
"!
---
Thanks to Nazgul for his time spent answering our questions!
Thanks also to him for having helped us internally at History of Rappelz on some points (notably balancing).
We wish him an excellent continuation in his career at Webzen and no doubt that his replacement will be able to take over as he should, we welcome him!