Rappelz M is now available!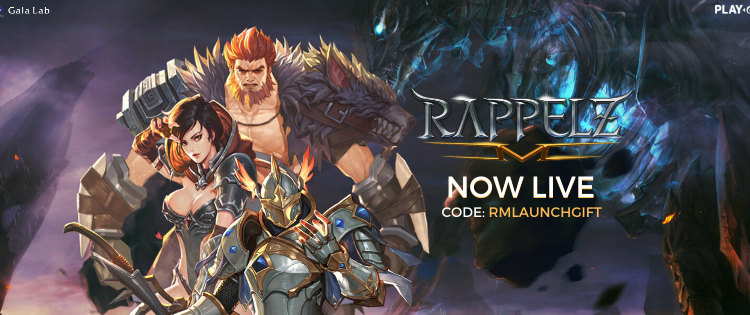 This post is also available in Français
Here we go!
After more than four years of spoilers, Alpha, Beta, name changes and game redesigns, Rappelz M is finally available in its final version!
Everything has accelerated in the last few days until at the beginning of the month, the final release date of the game was finally announced: March 31, 2020. Perfect timing, it's today!
What about the download, what's going on?
As we mentioned in a previous article, the game is currently available on the PlayStore and on the Apple Store natively for Southeast Asian countries. But it doesn't matter, PlayPark had the good idea to share the APK download link to allow other players to get the game. Just open this file once downloaded.
Download link of the APK : https://bit.ly/RMSAPK1092102
Since the file is hosted outside of the Google Store for those who go through the APK, we have prepared a VirusTotal verification link for you to ensure that the APK is safe.
Verification link VirusTotal : https://www.virustotal.com/gui/file/f208056565f7a0b6109b5aa642b2741e5626b1cd6874a216b643224f83ce2650/detection
For iOS users, however, you'll have to wait a bit as it's not possible to bypass the Apple Store.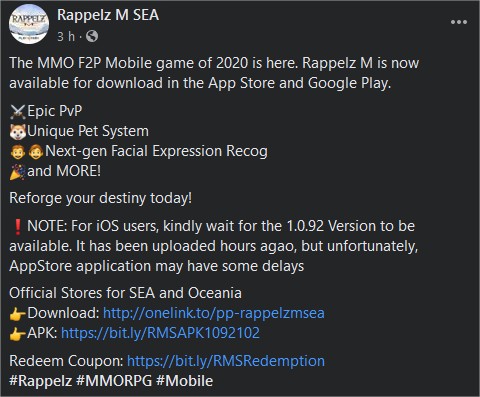 A launch event coupon is available : RMLAUNCHGIFT.
Coupon Redeem: http://auth-rzrm-as.rappelz-mobile.com/Event/Coupon.aspx?fbclid=IwAR3mkre1ueHxFNp713sbK1519zkNd0ARCgCHwcXLajExNN2KW_6KfLhSJzg
Be careful though, the servers seem to be victims of their success today, they seem to be a bit overloaded. PlayPark's teams are working on this problem, we hope it won't be a recurring one!
How do I get the game off to a good start?
We haven't tested this brand new version of the game yet.
The dedicated website has been updated with a lot of information to get the game started!
https://rappelz-m.playpark.com/en-sea/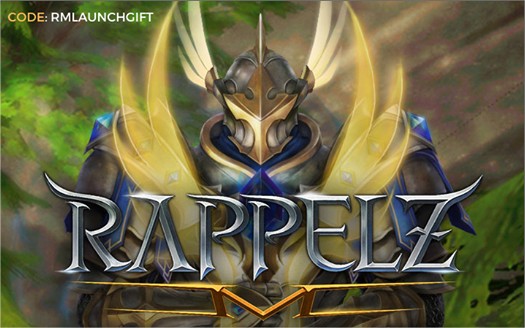 Have a great start in Rappelz Mobile!