This post is also available in Français
HOR, what is it? Why HOR? How does it get pinched? These questions are often asked questions, and we are here to talk quietly to you, what is it? Why HOR? How does it get pinched? These questions are often asked questions, and we are here to talk quietly to you.
HOR, what is it?
Since 2013, HOR (HistoryOfRappelz) is an independent website, founded to share with Rappelz history and anecdotes. In March 2014, HOR was completely rebuilt to incorporate a system of articles allowing to share something else than the history of the game through the epics, since that day we shared with you anecdotes.
In June 2014, we had access to the KTS, since, we share with you in French info on the KTS. Short. Since 2013 we share anecdotes on Rappelz with you, and it pleases us.
HOR, from a "law" point of view "papers" etc, what gives?
HOR is a completely independent website. We do not belong to Webzen, Gala Incorporated, Nikita Online, Eagle Game, Gamepower7 or I-Cable. We are independent, and we are us, so we can use the tone we want, and say what we want (within the limit of legal eh, it is not because we are independent that we Can afford to tell everything and anything.)
We want to use a nice tone and no headache, because that is our state of mind. We are on Rappelz to have fun, to have a good time and to unwind after a hard day of work, we are not going to bother to speak "class", while we are there only for fun;)
HOR is also licensed under creative commons! It means that our content is entirely non-profit, and that anyone can share our article with the one and only condition that we are quoted! That means that you have the right to put our info on your forums / sites / anything you want, but you must indicate that it comes from us by putting a link to HOR. Plagiarism has no place on the internet, and as soon as we see forums plagiarize, we report to the host by indicating the illegality of the thing. (We do not go any further but still, we have to warn the host that he has some little tricks at his place;))
Who is behind HOR?
Holyblood
I'm playing behind Rappelz since time immemorial 🙂 I hide behind the technical part of HOR And I take care of the updates and evolution of the site with #Wantmytip. I like to see the satisfaction of a job that pleases users!
Concerning the radio, I am always available to take out a muddy joke or to laugh at the annoys of others! I love the atmosphere of live and it's not ready to stop. And that's all!
Wantmytip
Passionate about computers and anecdotes of all kinds about absolutely everything (You knew that trains roll left because of the English No, now you are aware;)) I write articles and quite a few pages on HOR since its creation. It's really nice to share my anecdotes with people, it allows to exchange, and to have plenty of others in mind! Give me a date, an object, a trick, and normally I can get you an anecdote related to the machin! It's funny 😛
Having some experience in radio (I worked for half a season in the studio) I know exactly what to do / not to do on a radio. It is a little for that that the RadioHOR is quite staggered, history not to give a too pro picture, because we are not there to make kind that we are pro when we have fun;)
Pokegaia
I have been in IT since 1994, I have done my job and I have switched from technician to network and system administrator Up developer java, JS, PHP, mobile etc …
I like making video and sound editing and what I prefer is to animate the radio to keep a fun atmosphere

I'm asked to activate notifications when I go to HOR, is it normal?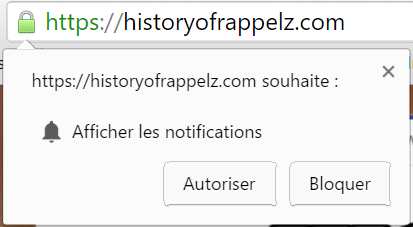 Yes ! HOR uses the new system of web notifications push! Basically, when you click "Yes", you are warned by a non-intrusive message when an item comes out or when a #LiveHOR starts! It's really nice, and it can allow you to be informed in just one click and without any installation or other manipulation on your part!
We send less than 5 notifications per week, it's really not flood and it's pretty nice 🙂
RadioHOR, can you eat it?
We decided to create a radio in August 2014, to give a new dimension to HOR. We were already in partnership with another radio in connection with Rappelz which stopped broadcasting when we started to create ours.
Every week, we are on the air! And we really have fun! We take a fun to play differently than usual, not to go DP and do quizzes nice! It's top, it's our way of having fun, and we consider that we do not have to be judged there
Are we paid for HOR?
No, no and re no! HOR is a completely independent site, and one is not paid for. We do not touch a penny (except on pubs on the site that allow to pay for accommodation, because it is not free web hosting and radio infrastructure) that we report money, we are amateurs; )
How do we get the objects we give live?
Thanks to donors and people who know exactly what we are doing! We thank those who give us objects to help us, and those who sell us items at very little price! When buying objects in "BIG MASS", it is never to use it. This is for #LiveHOR;)
How is HOR updated?
HOR is updated with a version cycle. There was HOR, HOR2 HOR2.5 HOR3 and thereafter it is HOR4. Each version is there to bring a plus, a kind of renewal. We do not change that the interface of the site, we spend hours / days / weeks to optimize the site and optimize some of our internal equipment history that everything is even better.
With HOR2, we have undergone an overhaul. HOR, done again in its entirety, from A to Z, everything has been redone history to leave on good bases!
With HOR3, there has been a better emphasis on content
With HOR4, there are loads of new features! A unique forum creation system, a social networking system and even faster access to essential information! Enough to make the HOR experience even better!
How is the RadioHOR updated?
That's different. RadioHOR does not have the same update cycle, because there are several things to consider.
The site of the radio, which allows to display the player, and that allows to access the chat of the radio
The player of the radio, which allows to listen to the radio by its navigator. For a long time it was a nonstandard player. Now the radioHOR is compatible with all internet browsers!
The radio encoder: It picks up the sound of our voices, adds the music and sends it to the broadcaster.
The broadcaster of the radio: It is he who will send you the sound, and who will transmit statistics (Number of listeners, the errors you can have when you do not sound, Which pass, the number of bytes sent in nature, in short, full of tricks)
Each component is independent, and when one of the components needs to be updated, it is necessary to do a little maintenance on the radio. We cut it for about 2 to 3 hours a month, at times where there is no #LiveHOR. Which is not annoying for you.
RadioHOR is not based on infrastructures that can easily be found on the Internet. We have our own infrastructures, with particular systems, which allows us to be more efficient and which allows us to master our working environment.
A question, something wrong?
Do not hesitate to contact us via the contact page!
That's all for this FaQ! Now you know HOR on your fingertips! Good visit !