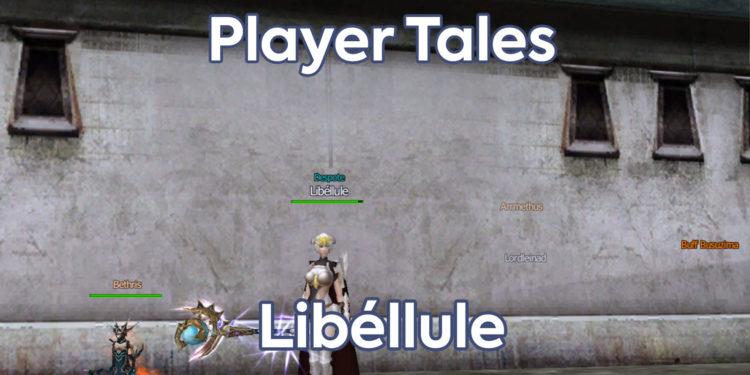 This post is also available in Français
Some players have been playing for years and/or are known by the community. But who are they really? Who is behind this nickname and gaming partner? Player Tales is a series of articles featuring former and/or known players in the form of an interview.
In this article we introduce Libéllule, a Rappelz player for nearly 8 years who has kindly agreed to answer our questions !
Who are you?
How long have you been playing Rappelz?
Since 2011
How did you find out about Rappelz?
Through a friend
Does your nickname mean anything?
In reference to the animal
What was your best memory on Rappelz?
The old events, especially those of Christmas, the Bears
And the worst of it?
When you're on a spot, have a player come in and get you out. The lack of respect therefore
Have you ever been a guild master?
Nope
Are you currently in a guild?
Yes, Taurros
Have your IG friends become IRL friends to some?
Yes
Do you have any gambling habits? (Planning, etc…)
No, I play at my own rhythm.
Did you realize a IG dream you had at the beginning?
Yes – make my pets belt
Did you prefer something in the old Rappelz?
The events
The technique
Which class did you start with?
Master Breeder, but my Mercenary has become my main
On which server did you start?
Lorelei
What is your current server?
Lamia
What is your current level?
183 (As of December 2018)
Do you have a favorite pet?
Yes – several Dragons, Skeletal Dragons, Abhuva, Ice Dragons.
A favorite suit?
Ninja
Do you have a message to send to someone, to the community etc…?
There should be a system allowing the stuff to be put up by the farm or whatever because I realized that not everyone could put money into the game and some people get stuck and give up the game or have trouble persevering.
The lack of DP of any LVL, because there are not many tanks or people stuffed for tanker. I find that Webzen is not listening to players from some classes like the Templar or others, because because because of the changes they make or what is changed, players give up this class in despair, which is very sad.
Thanks to Libéllule for his availability and interview!
We meet again very soon for a new Player's tale!