HOR at the PGW/CGE 2017 : Our feedback on the Paris Games Week 2017 !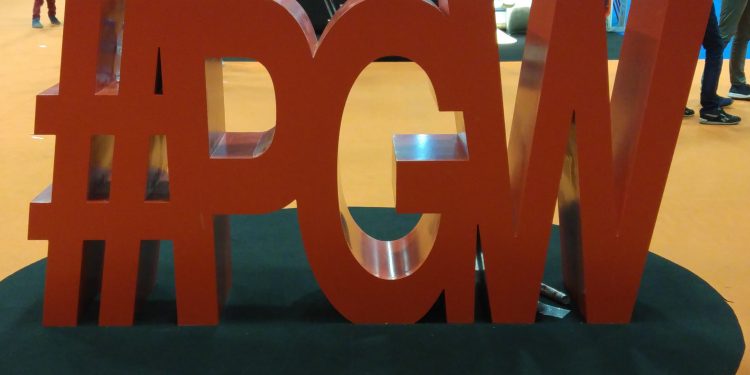 This post is also available in Français
We had the chance, and pleasant surprise to be invited to the Paris Game Week 8th edition, as well as to the Games Connection Europe's 2017  edition, taking place simultaneously !
Here is the first part of a two article series : Feedback on the PGW and CGE !
The Paris Games Week, on its 2017 edition, took place from the 1st to the 5th of November. With more than 310 000 visitors sharing around 80 000m² of exposition surface, it's the 3rd biggest video games exposition in the world !
We were attributed Blogger badges by the organisations, which gave us full-access to the exposition, and believe me, it was quite the show. With the Nintendo and Sony news, Microsoft's Xbox One X along with some new fresh releases and activities, no time to get bored 🙂
Follow the guide !
A small peek at Nintendo :
The beginning of our fun video adventure was established at Nintendo's (A stand you can't miss !). As recent owners of the Nintendo Switch, we were curious to know what the Japanese editor, as well as the manufacturer had for us.
Of course, the last Mario Odyssey and Zelda Breath of the Wild were the most honored games, but most of the switch games had the possibility to be tested. We also enjoyed an ultra-classy photo-shoot with our Red-Hatted friend !
Time to check out Ubisoft !
Following Nintendo, we followed the path to Ubisoft's french team. Their stand was insane !
This year, Ubisoft's main attraction was the last episode of the Assassin's Creed franchise : Assassin's Creed Origin . I had the chance to test it out, it was very  impressive
It wasn't the only game present at Ubisoft's stand. Just Dance, Raving Rabbids, Ghost Recon and many others were present. We would like to thank Ubisoft for letting WantMyTip climb to the top of their stand in order to get some memorable shots ! You'll find them in our gallery.
Finally, as an Assassin's Creed and cosplay fan, I couldn't miss the amazing work of the RBF-productions-NL creator, Rick Boer. One should not forget, the PGW is also about cosplaying ! Some cool shots can also be found in our gallery.
Let's head towards Xbox
Direclty next to Ubisoft, the Xbox area.  Their stand was a mix of fantasy and jungle, to represent both Shadow of war and Player Unknown's Battleground universe, we also had the chance to meet one of PUBG's managers at the Games Connection !
Here again, we were invited to climb of the stand to get some great shots (special mention to the bar we found upstairs). The view was impressive !
On our way back, we had the chance to test Forza Motorsport 7, and what a game ! Assassin's Creed Origin and Minecraft were also available to test, as well as some other fresh releases from independent editors.
Directly next to the stand, a red Porsche 911 ! Classy.
Sony's Playstation !
After Xbox, it seemed logical we had to chain with Playstation. Their stand was gi-gan-tic ! PS Plus subscribers had the possibility to obtain bracelets shortening their queues and waiting time to reach stands and activities. However, we did not have it, but the stand owners were kind enough to let us enjoy this privilege nonetheless ! Top level !
The first Playstation stand we accessed was the Playlink stand. Playlink is a technology that enables players to play some Playstation games with their smartphones.
We also had the chance to test "Detroit Become Human",  a cool multiple-choice-based game. To present the game, Playstation set up a stand with actors playing the Cyborg's role !
The ride continues
What's nice about the Paris Games Week is the fact that one just needs to lift his eyes to find a new destination.
Let's head to jeuxvideo.com !
The jeuxvideo.com stand was composed of many activities, from which we could find small stores, showcases, game testing areas and even a replica of Spiderman's costume !
Cocorico !
The Paris Games Week is also a chance to represent and promote the French video industry. A "Made in France" games area was available, and well organized ! Focus Home Interactive, an important studio on the international gaming scene was present there.
Conclusion
The Paris Games Week was an event we loved participating in ! We had 5 amazing days, tested and re-tested as many games as we could as well as making new discoveries, and it's with pleasure that we'll be back next year !
We could not post every photo we took during the event in this article (more than 130), so here's a link to our gallery were you'll find all the shots of both the PGW and GC.
https://jerzak.historyofrappelz.com/apps/gallery/s/GYTh2Y5dGM0gYAy
Talking about the Games Connection, it will be the subject of our next article, stay tuned !