Flyff Legacy shows its pixels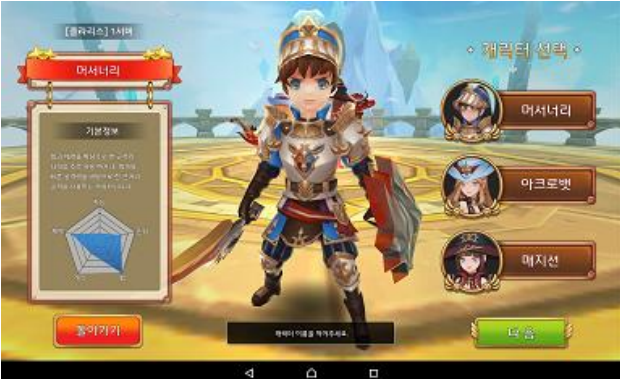 This post is also available in Français
Hi everybody !
There are times when you do not know what to do with your ten fingers, your smartphone all beautiful, all shiny, super class mocks you a few centimeters from your nose… You want to play but nothing tempts you (Despite the invitations of your friends and family on candycrush) and there, BAM, you learn thanks to HOR that Moblo began to invite some people to the beta of their new game: Flyff Legacy! Cool ! But … concretely, what is it worth? ?
We were fortunate to have access to this famous beta (besides my phone is repaired) what more if not this review article ?
First launch, first impressions
After downloading the APK (which is several tens of Mb), I hasten to install the App and start to be able to let off steam as soon as possible on Pukepuke and other critters with names strangest one than the others. The moblo logo appears followed by the Flyff Legacy logo and… "Patch file is being downloaded [1/28]". Ow, the Karma again struck! 28 files to download from the first launch? I have however taken the latest version of the APK available, it did not prevent Flyff Legacy to pump me nearly 100MB of data for a simple Patch! Certainly it is a beta, the game certainly is not available yet on the Play Store, but just … why? Why block the launch of a game that is already long to launch (about twenty seconds to get to the home page without the download and on a LG G4!) Vilain choice from Moblo to choose such strategy of update. This is a mobile game remember, not a PC game.
The update is finally complete! Then I arrive on a page with the current events, which is quite likeable
I arrive on the home page of the game, which is rather pretty and animated 🙂
Creation of the character
After many misadventures, I can finally create my character! I try to log into my Google account (for success etc …) but the functionality is not working right now (This is a beta, it does not matter). Next is the screen for creating the characters.
I am asked to choose between three classes: Mercenary, Acrobat and Magician. I choose Mercenary 🙂 Note the small graph 'on the bottom right presents the strong points of each character. I call my little guy "Sagaroth".
It is offered to choose an avatar for the little guy
And that's all. The character is created. Too bad, I would have liked a little more customization options.
We found my little guy (a few lvl later) on the page following the homepage, +1 for the graphic realization which is really nice for a mobile game!
Getting Started and Gameplay
After the selection of the character, the game finally launches! Members of the Beta have the opportunity to participate in a daily event, cool!
Gameplay level is very nice for a mobile game! The regulars of the mobile game know that it is rare to have a pleasant game in terms of grip and gameplay. And for that I say YES!
Be careful though, my LG has a big screen, I doubt that it is also nice on smaller screens.
Visually, it's Flyff, it's beautiful, it's fluid, it's colorful. The mobs are there, the Auto button (which allows you to quietly up at work) too. Quests are numerous and consist mainly of farm. By the way, the chat world is not very nice, when you want to type something, a screen opens and covers the whole game window, so be careful to be in a safe place!
The inventory meanwhile, is fairly clear and easy to use. The players of Flyff like the others will not get lost!
Notifications
I pause my little gaming session and I'll put on my chair, my trusty smartphone beside me. After a few hours, a notification appears, it is signed Flyff Legacy and reminds me that an Event is in progress. Friendly!
I'll take care of it later 🙂
The NSA rubs hands
While happy to have this new game in the hands, I continue my tests. And one day, my Android antivirus Sophos Security warns me: Flyff Legacy is a bad app reputation.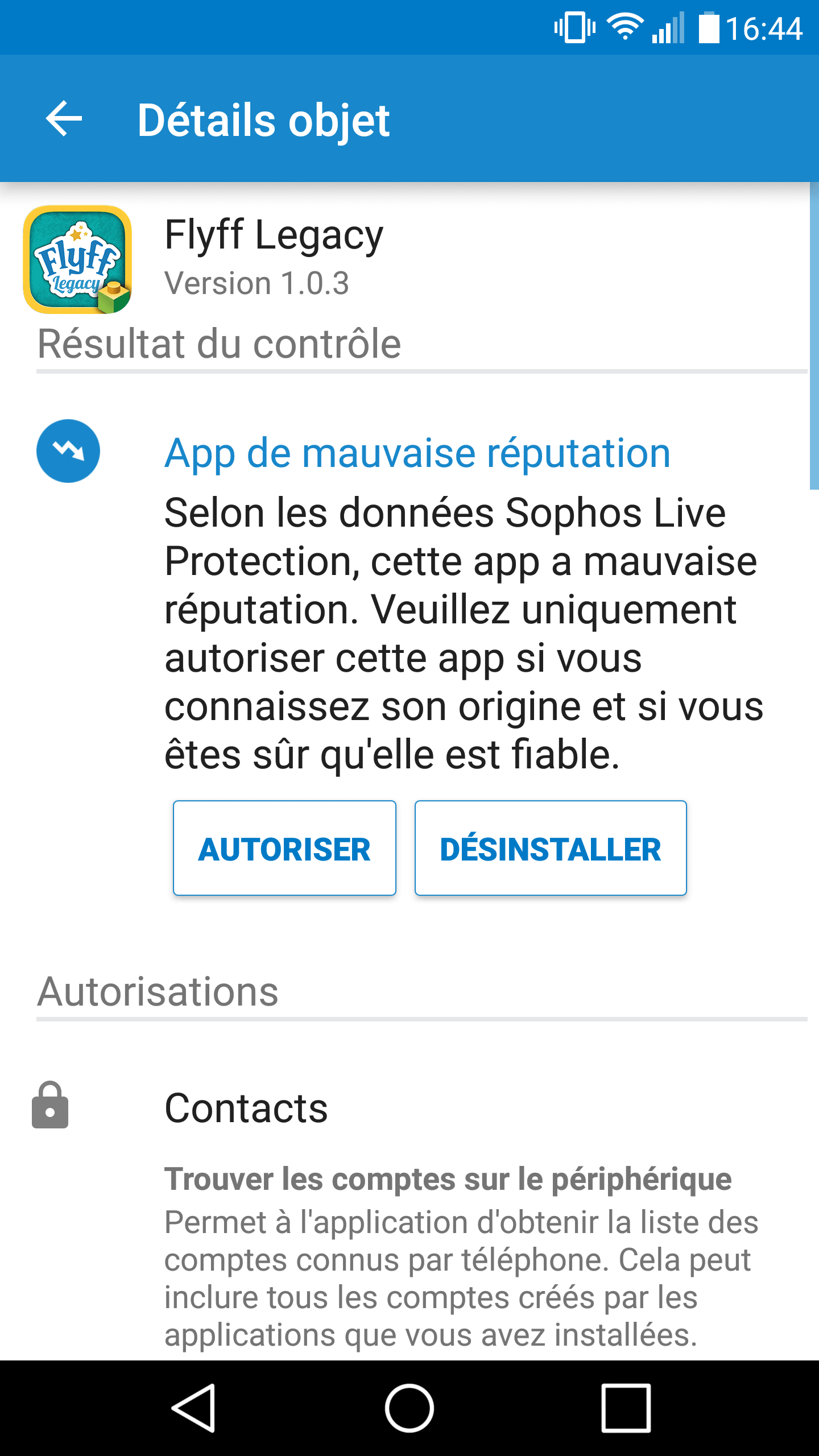 Strange, maybe it's due to the fact that it is a beta? I will search the details of the alert and there, surprise, this game seems a bit too curious…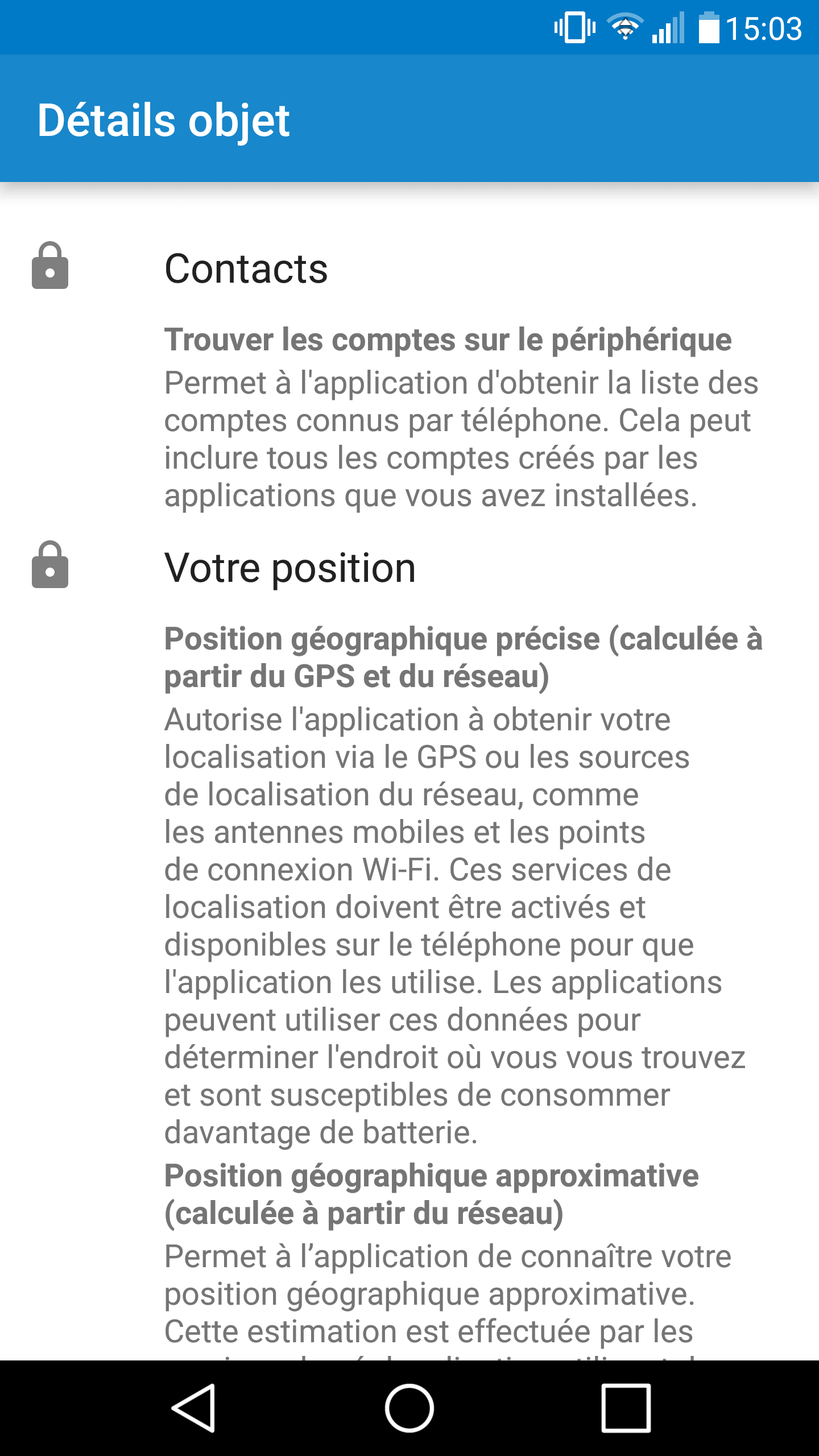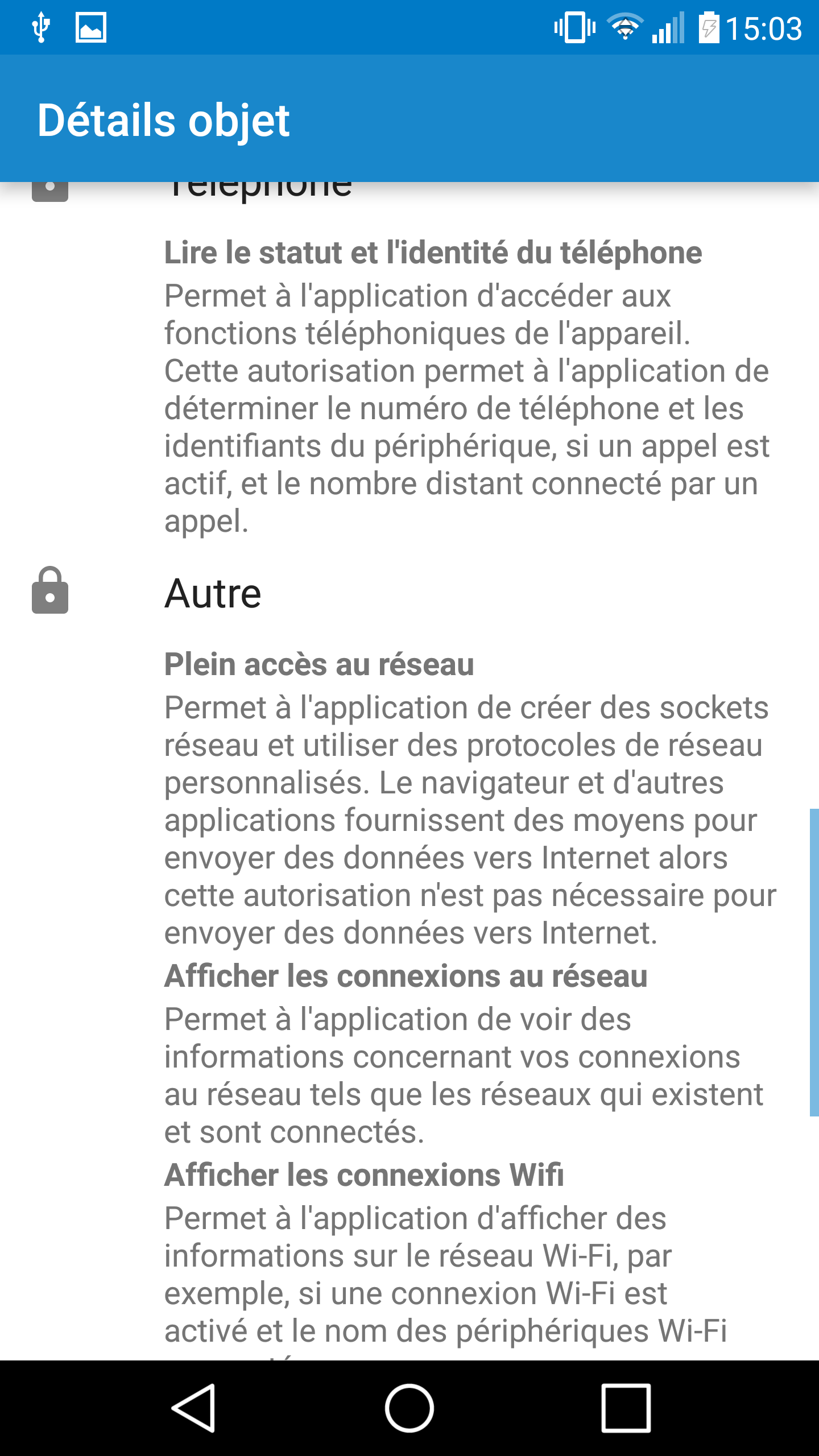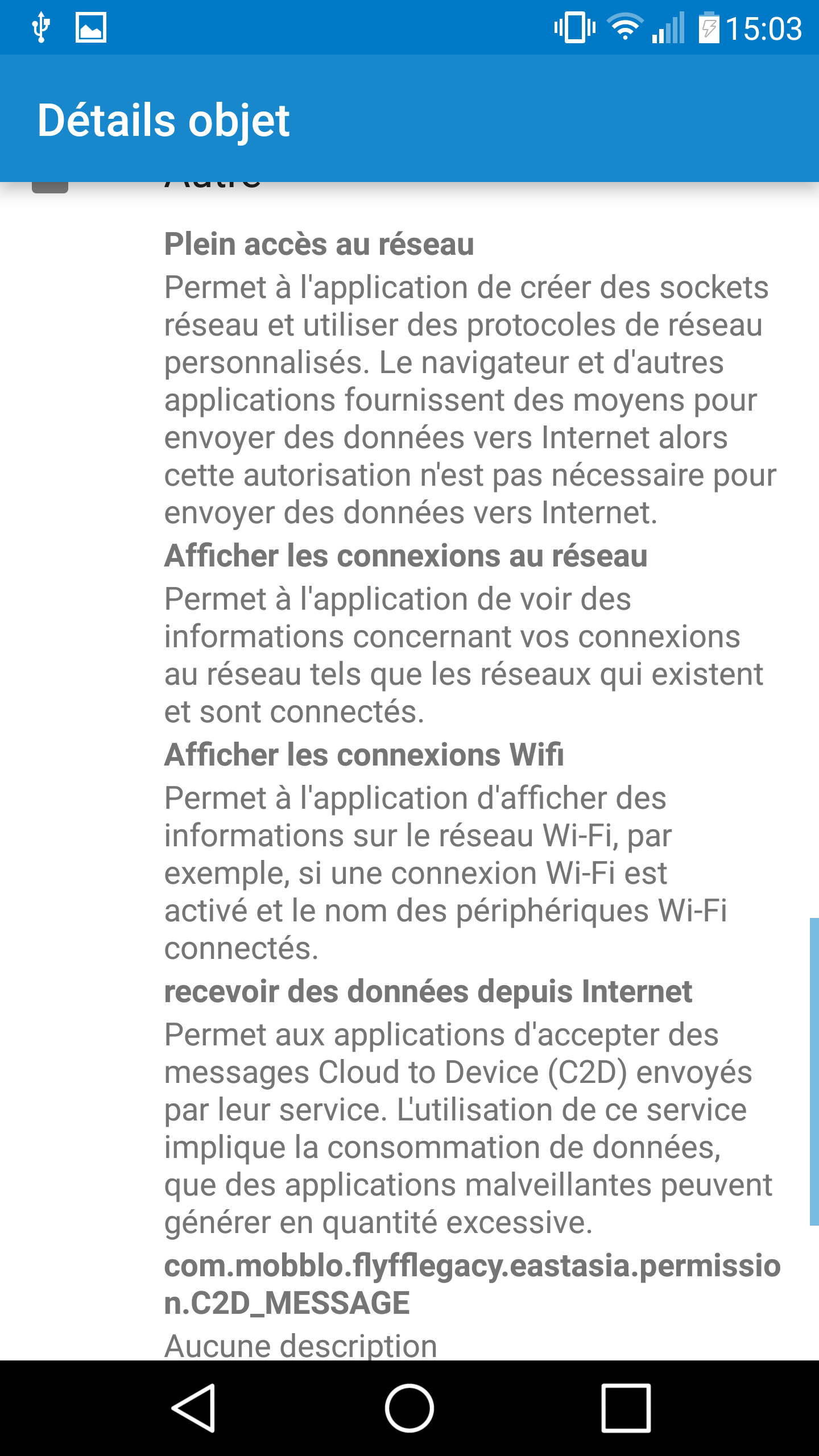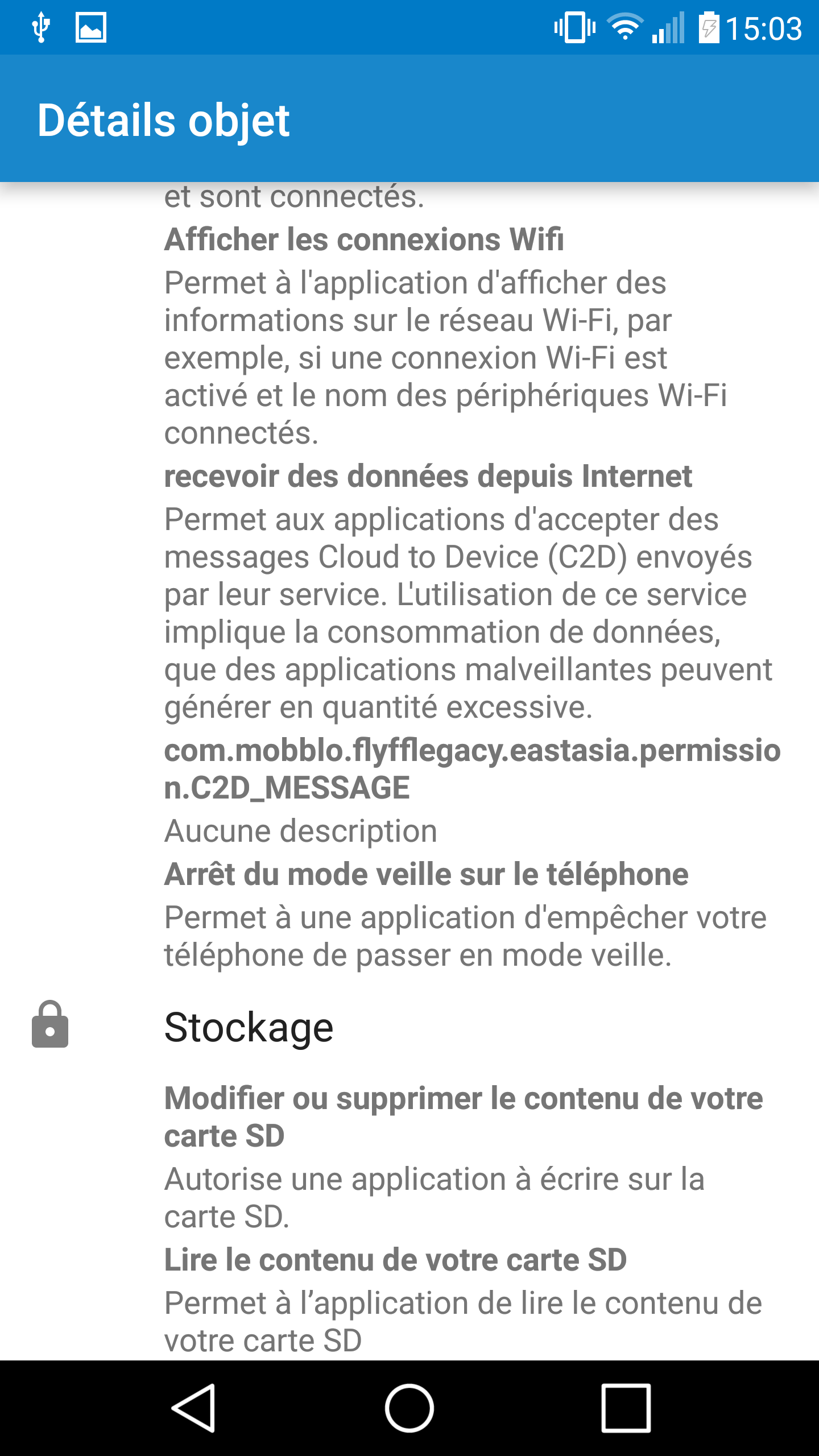 Why should a single game require as much authorization? The positions, the contacts, the contents of the card … It's party at Moblo!
In short, Flyff Legacy is a rather nice game that is visually as in terms of Gameplay and grip. We would have liked a little more choice of personalization of the character, a more adapted method of update and especially a game a little less spy 🙂 Also be careful to have a fairly recent phone with a rather big screen (5.7″ is the ideal phone for this game).
I would therefore give him a generous note with respect to his faults of 7/10.
For now, we do not yet have an official date for the release of the game in final version.